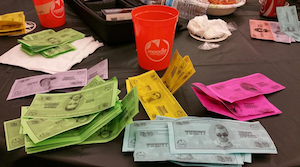 MootBucks have become one of the core values of the MountainMoot. Whether it's a universal passion for gamification, a deep spiritual commitment to active community, or a simple love of prizes that binds us together in Mootbucks, we can't say. What we do know is that MootBucks are universally beloved by all of our attendees.
If you've never been to a MountainMoot, you may wonder what MootBucks are. Simply put, Mootbucks are a currency that you can earn through good participation in MountainMoot activities. For example, a presenter might give you MootBucks for asking a good question in their session, or for tweeting a good note from their panel. Mootineers might give you MootBucks for helping out with conference activities, or simply keeping Ryan company. However you earn them, hang on to those MootBucks, because even though they have no cash value, they can be used to purchase very real prizes during the Thursday night MootBucks party.
Moot Coin is a whole new level of engagement that we tested out the past two years. We offer four different kinds of Moot cryptocurrency. Just like the real cryptocurrencies, the value of these fluctuate wildly durning the moot. You get a variety of coins throughout the conference which can then then be traded with others, traded at "the bank" or converted into Moot Bucks. Timing is everything here and the market can easily create a run on the bank. Think you have what it takes to beat the market and get rich - bring it!
Which brings us to the MootBucks party. A happy-go-lucky event where anything can happen, the MootBucks party features games of chance and skill that help you earn (or lose) MootBucks in advance of the live and silent auctions for thousands of dollars worth of prizes. In the past we have given away Kindles, Ollies, document cameras, Myo Armbands, Bluetooth Speakers, Computers, Raspberry Pi's and tons of other great items you may need (or just want) in your everyday life. Even if you aren't a winner of any of the auctions, food and drinks are provided with every conference registration, so the party is worth your time even if you aren't a MootBuck Millionaire. Besides, there are plenty of great silent auction items that are very affordable.
So join us for a great time at the MountainMoot, and let your participation earn you that prize you've always wanted.